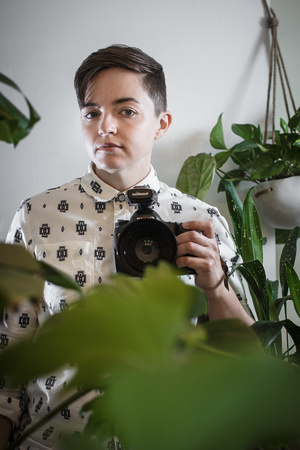 I believe that every image with staying power should tell a story, leave a viewer in awe aesthetically, and have a distinct mood/emotion under the surface. Photographers shouldn't apologize for capturing and publishing images that span the gamut of human emotion, rather, we should constantly be seeking out those experiences in an effort to seek meaning behind the human condition.


The Spark
Born in the Boston Mountains of Arkansas, I grew up on 50 acres of wooded farmland, with more inspirational subject matter than I knew what to do with. Creativity comes naturally in a place like that and one birthday gift in junior high changed it all: a film camera. My focus in school was music but traditional art seemed to always play a part in my growing up.
Once I moved to Russellville to work on my undergraduate degree at Arkansas Tech University, that creative spark ignited brighter with new subject matter. Sooner rather than later, I met other creatives my age and we'd shoot photos together of the various abandoned places, gritty textures of downtown and one another. This was before the time of social media as we know it today - I kept a blog (Xanga, for those that are familiar) of my favorites and nerded out designing that online presence to suit my evolving tastes. Eventually, I began getting commissioned for photography work: mostly portraiture. Once the commissions started coming in, I felt the pressure of needing better equipment.
While balancing a full class load, I also worked as a Walmart auto technician. When I received my first bonus from that job, 100% of it went into buying the best digital camera that I could afford. I've continued that philosophy forward into everything I do: put back into yourself what you want to get out. I continued shooting throughout undergrad with all of my gigs coming from word-of-mouth.
Pixel Pushing & The Economic Shift
After obtaining my bachelors degree in graphic design with a minor in business, I worked as a graphic artist by day and on the weekends fully committed to wedding photography. When the economy took a downturn and started to really affect Arkansas in 2010, I was laid off from my day job and full throttle committed to my photography work. I caught the eye of my alma mater in the Fall of 2010 and was hired as a graduate assistant photographer while working on my masters degree in multimedia. I guess they enjoyed my work and vision because they hired me full time in January of 2012 and I documented the history of the university for 11 years. ​​​​​Working in as the Director of Photography at ATU allowed me to expand my photographic nimbleness. After documenting a basketball game on a Thursday night, I could wake up to a studio portrait of a board member on Friday. This adaptability has resulted in a widespread body of work and expertise in many facets of photography - I've never grown weary of wanting to get better and better at this craft.
In Spring of 2021, an opportunity presented itself at a non-profit that I'd been a member of since 2014: the International Mountain Bicycling Association (IMBA.) It was an opportunity that I couldn't pass up.


Currently
I am a proud member of the IMBA team - my role as Content Marketing Manager allows me to marry the skills that I've honed since pre-undergrad: design, community-based marketing strategies, photography, storytelling and infusing heart into every communication.

Over the last few years, I've had the ability to wear the hat of national conference speaker, chair of a national design show, feature writer for various publications, digital strategy manager for various clients and occasionally dusting off my skills as a graphic designer.

And when there's not a camera in my hand or a message to craft for IMBA, I'm exploring the outdoors via Scamp, bike, boot or boat.
Partial Client list:
The Bitter Southerner, International Mountain Biking Association, Arkansas Life, Climbing Magazine, The Drake, Bentonville Visitor & Convention Bureau, Arkansas Business, Winthrop Rockefeller Institute, TEDxMarkhamStreet, Crow Construction Company, Great American Conference (NCAA DII,) About the River Valley Magazine, The Sells Agency, Russellville Advertising & Promotion, Clarksville Tourism, 24 Hours of Horseshoe Hell, Michael Cooper Dentistry